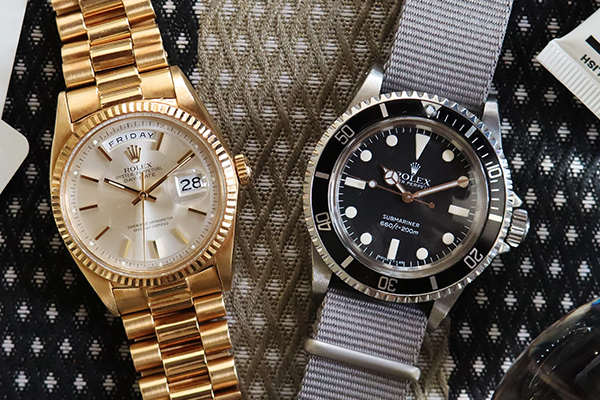 Professional NYC Watch Repair
Watch Polishing
Sometimes you don't just want your watch to run like new, but you also want it to look like new!
No matter how long you've owned your watch and how careful you are with it, sooner or later it's going to lose some of its shine. Sometimes you'll start to see little scratches or dents, or you might just notice an overall loss of luster. It can happen so gradually that you might not even notice. But one thing is for sure, once you get it back from our expert technicians, you'll remember what it's like to have that new watch again.
Our experts personally handle and polish each piece to give it that like-new shine. They have years of experience that you'll see every time you look at your watch.
There's nothing like a good shine. Our Polish service removes:
Scratches
Dents
General signs of wear
No one handles watches better than our experts. They are as experienced as they are thorough. And they get the job right, using only the best tools, customizing the job to the specific shape and size of your watch.
When you combine the right tools, with the right experts, and the right amount of work, you get a timepiece that looks as good as the day you first put it on.
Using the most up to date instruments, tools and processes, we will:
Polish and restore the outside of the watch, removing scratches and dents and restoring luster and shine.
Refinish all parts of the watch, including the movement, bezel, crystal and more.
Restore watch to original water resistance level.
Our experts and specialists have years of watch repair and care experience. They have the right training and certifications. And we keep them up to date with the latest methods and techniques so you'll always get prime, state-of-the-art service.
If the scratches on your watch are particularly deep, we may need to remove a small layer of material, but don't worry. If that step compromises the quality of your watch, we won't do it.
At Watch Repair & Co., your watch gets the VIP treatment. We want to make sure your watch runs smoothly, runs efficiently, and runs at optimum levels long into the future.
That's our premium service: the highest quality skill and craftsmanship, backed by years of experience, done in a workshop full of the latest tools and technology. Anything less…well, that's just not Watch Repair & Co.